Widows
These widows are often the sole providers for their families. Their businesses are as varied as each individual: paperbead making, sewing, farming, and animal husbandry to name a few.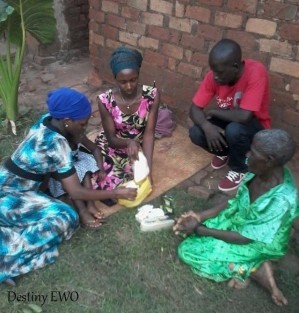 Destiny works closely with each widow so they can become self-sustaining, fostering pride in their village:
Identify their sustainable, marketable skills
Encourage their growth in business
Teach community building
Teach budgeting
Provide basic home improvements such as doors or locks for safety and safe keeping of their work products.
Pray with them as they express needs
Once we sit down with each one, learn their names, meet their children, hear their stories it's very hard for us as staff to walk away telling them, "We will do what we can and be praying with you that God provides." In fact, it's heart breaking. We often leave with tears in our eyes and are lie awake at night worried about them. But we know we serve a very BIG God and He CAN provide!
The widows welcome and invite us into their homes to share their lives with us. We hear their reports of praise for how God has been faithful to provide for their most basic needs, knowing He will provide again.