Destiny Guesthouse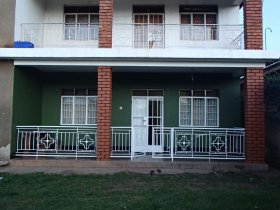 The Destiny guesthouse is open! If you are traveling through Jinja and need a place to stay you are MOST WELCOME!
We are always encouraging the elderly, widows and orphans we serve to look for ways they can become self-sustaining. The Destiny guesthouse allows us to follow our own advice to do just that for ourselves as an organization.
Email us, send us a Facebook message or use our contact page form to request a room.
FAQs about our guesthouse:
Do you have running water for drinking or flushing toilets?
Yes, we do! We have running water in all the sinks, showers and toilets. And we have a safe water filter system for drinking water. We do not have a well; but use city water and sewer services.

What about electricity?
We have electricity at the guesthouse provided that the city of Jinja doesn't lose power. It does happen; so keep in mind you are in a second world country.

Do you provide any meals?
We have items available for you to make your own breakfast (eggs, bread, fruit, tea) and provide a Ugandan supper meal.

If I need any clothes washed where can I do that?
We would be happy to wash and dry your clothing!

What about connecting with friends and family back home?
We have wifi service available and it is included in the cost of your stay. Again, keep in mind you are in Uganda so this service is a luxury and does not often work as quickly as your internet at home.
How many beds are in a room?
We have a variety of room options from a room with a full bed plus twin bunk beds, to a room with just a full size bed. All beds are covered with mosquito nets.